Christmas morning ain't got nothing on the day I've had today. Within the last 24 hours, my first and my second fiction sales have gone live.
First came "Cabrón," in Stupefying Stories's second annual horror anthology, Two. (Amazon link) (Barnes and Noble link)
Check out this amazing cover!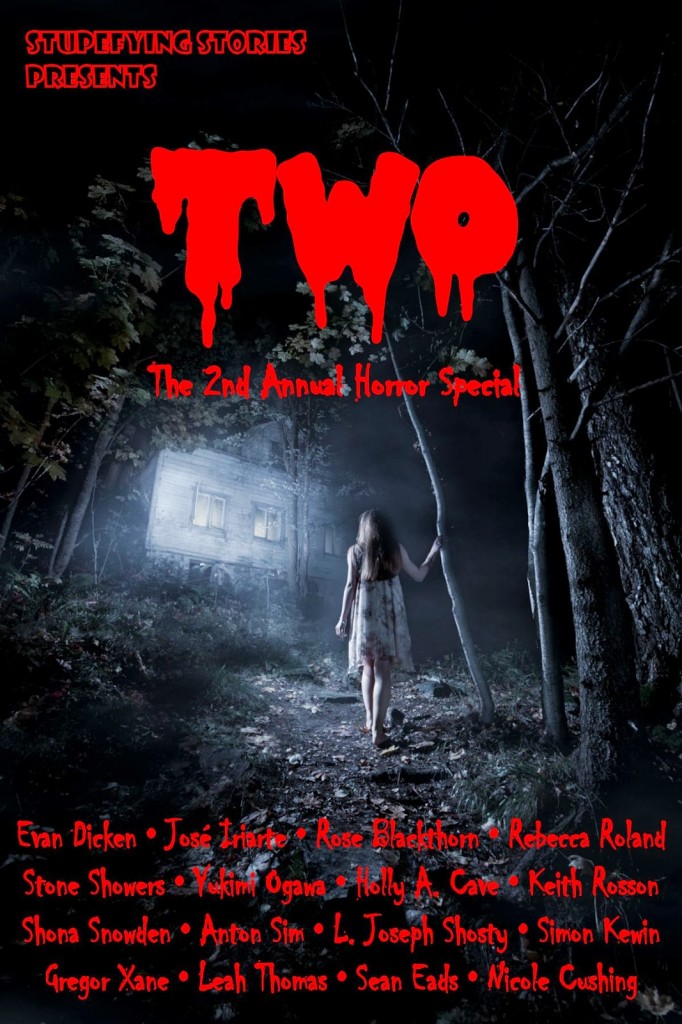 It will forever amuse me that this science fiction/fantasy/young adult/middle grade writer's debut sale will go down as a horror story.
Anyway, the story I have in this anthology is a YA horror story, if that's your thing. You can download a bunch of stories from some great writers–and also my story–for just four bucks!
Here's what editor Bruce Bethke had to say about my story in the introduction:
"Do I rave about José Iriarte's stunning debut, 'Cabrón,' and tell you to keep you eye on him because he's going to be a writer to watch?"
And okay, he's the editor, so he's supposed to tell you the book is full of awesome stories, and okay, technically he never actually answers that question SHUT UP! IT'S STILL PRETTY AWESOME!
Ahem . . .
So I'm not gonna lie and say that my eyes didn't fill with tears when I downloaded the anthology and cracked it open. Most writers either give up or succeed by now . . . it's been close to thirty years since I got my first rejection, and I finally feel like I've figured out how to write salable fiction. For better or for worse, I've crossed a line: I'm a published author. There is so much more I want to accomplish as a writer, but this is something nobody can take away from me. Yesterday I was an unpublished aspiring writer, and today I'm an author. My friends outside of writing really can't get how big that is to me, but most of my writer friends will know.
BUT WAIT! THERE'S MORE!!!
Less than twelve hours after my debut publication, my SECOND fiction publication went live. You can read my first SFWA-pro fiction sale, "Yuca and Dominoes," at Strange Horizons Magazine here. And holy crap, I even have a podcast of my story! If horror isn't your thing (don't worry–it's not mine either!) this piece is a bit more understated. It's magic realism, and about the most carefully crafted thing I've ever written. And ohmygod, did I mention there was a PODCAST?! I can't do justice to the experience of hearing my words read back to me in a professional recording. Anaea Lay's rendition of drunk Carmencita Peña is worth the download all by itself!
So, yeah . . . I've been thinking about what to compare the day I've had to, and the closest analogy I can think of is Christmas morning to an eight-year-old. Honestly, I don't know that I ever had a Christmas as awesome as today was!